Berlin is an exciting and vibrant city, teeming with many trendy areas and is a superb destination for school and student group educational study trips. The city has undergone major regeneration since reunification and is fast becoming a major centre in Europe for Media studies, Art and Design, Architecture, as well as, for obvious reasons, History trips for schools, colleges & universities.
The city is ever-changing so there is always something new or different for school and student groups to see in this liberal capital of Germany. Regardless of study area your educational group will benefit from a study trip to this fascinating city offering a different feel to all the distinct areas. Let Further and Global School Tours arrange a competitive and enriching tailor-made study tour for your school, College or University students. Contact our Berlin student group trips experts at GST today!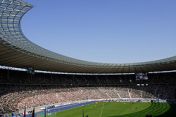 The 1936 Summer Olympics were known as Hitler's Games and and were meant to demonstrate the power and athleticism of the German people.
To outdo the Los Angeles games of 1932, Germany built a new 100,000-seat track and field stadium. They also installed a closed-circuit television system and radio network and filmmaker Leni Riefenstahl, a favourite of Adolf Hitler, was commissioned by the German Olympic Committee to film the Games for $7 million. Her film, titled Olympia, pioneered many of the techniques now common in the filming of sports.
The stadium is still in the same location but has been modernised and most recently hosted the 2009 World Athletics Championships. Groups can take guided study tours of the facilities. Please contact our Berlin student trips team at FHT Group Tours on info@globalschooltours.com for further details and we can incorporate this educational visit into the itinerary for your next educational History study trip to Berlin.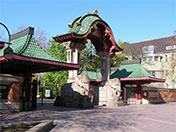 Berlin Zoo is the most visited zoo in Europe with about 3.0 million visitors per year from all over the world and a fun day for any group looking for a diversion. It is open all year long and can easily be reached by public transportation. Please contact us for prices.
Checkpoint Charlie, Berlin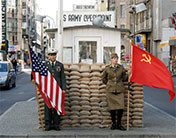 Checkpoint Charlie  was the name given by the Western Allies to the best-known Berlin Wall crossing point between East Berlin and West Berlin during the Cold War and is now an iconic visit for History groups, symbolising as it does the division created by communism.
Contact our Berlin student trips team at Global School Tours info@globalschooltours.com and we will arrange this as part of any school or college trip to Berlin for your students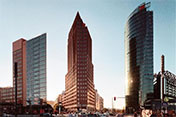 One of the fastest lifts in Europe will take your student group to the Panoramapunkt viewing platform at Potsdamer Platz 1, atop the Kollhoff Tower. Here excellent views await you over both east and the west part of Berlin at a height of over 100m.
Contact our Berlin student trips team at Global School Tours info@globalschooltours.com and we will arrange this as part of any school or college trip to Berlin for your students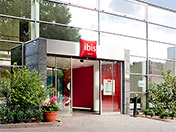 Discover the capital and stay in the perfectly situated ibis Berlin Mitte. Alexanderplatz is 10 minutes' walk away. Our hotel is an ideal base for sightseeing tours and the vibrant Berlin night life. Here, you are right in the center of the action. Thereare plenty of bus and train routes that will take you to destinations in the surrounding area quickly and easily. Relax in one of our 198 rooms, comfortably furnished in a modern style.
If you would like to start your day with a spectacular view, the ibis Berlin Mitte is the place for you. The breakfast room offers a wonderful view of the Berlin television tower, giving you more than just a culinary boost to start your day.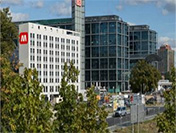 If your student group is looking for central and modern, high standard accommodation then there really couldn't be many better locations than that offered by the MEININGER Hotel Hauptbahnhof. Immediately adjacent to Berlin's central railway station, no fewer than eight bus routes, U Bahns and city trains meet here, and the hotel overlooks the Bundeskanzleramt and the Reichstag. The panorama roof terrace also affords spectacular views of Berlin.
Guests benefit from free WiFi and meeting place in the lobby. There is a hotel bar, guest kitchen and the gaming area and in summer the Cloud Nine Bar on the rooftop terrace offers a great place to chill out and take in the view. Students are accommodated in multi bedded rooms and leaders in singles and twins, all room ensuite
Contact our Berlin student trips experts at Global School Tours and we will be delighted to book the Meininger for any school, college or university student groups travelling to Berlin.
.
Hotel Accommodation

Flights

Coach transfers

Admission fees

English Speaking Guide

Detailed information pack

Free staff place ratio 1:10